The 24th Hublot Polo Gold Cup Gstaad began with two qualification matches which enjoyed the ideal conditions of a warm sun and a fresh mountain breeze—perfect for the horses, and happy horses made for beautiful games.

Italy's Nicolas Antonori scored the very first goal of the 2019 edition in which his team, Hublot, held a lead against defending champion Banque Eric Sturdza. Despite today's result, Cedric Schweri and his teammates need not fret, for there is still a chance for them to return next Sunday for the final.

But to do that they will have to face the winner of today's second game, Clinique la Prairie, where the three Argentineans made a considerable impression on the Saanen aerodrome green. Most notably was the 6-goaler Lucas Labat for his smart plays and skill in sending the ball down the field. Gstaad Palace managed to break Clinique la Prairie's 5-2 lead in a burst of three goals, but after they leveled the playing field to 6-6 the men of Liechtenstein captain Gerardo Cosentino could not register any goals in the fourth period. They will face Hublot in the semi-final next Saturday at 1:00 p.m.
This first day saw already an impressive public turnout, assurance that one can expect the final to be well attended! Tomorrow is rest day, or almost, for there will be a magnificent parade of the teams through the streets of Gstaad.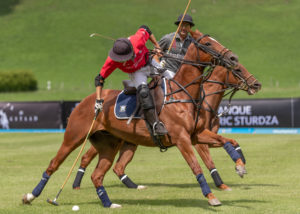 Progression Hublot : 2-2 ½ / 4-2 ½ /6-2 ½ ans 6-4 ½
 
Hublot : Marco Elser (ITA, h0), Marcos Antinori (ITA, h3), Nicolas Antinori (ITA, h4, 4 goals) and Julio Novillo Astrada (ARG, h7, 2 goals)
 
Banque Eric Sturdza : Cedric Schweri (SUI, h0), Bautista Riglos (ARG, h3, 1 goal), Marcelo Pascual (ARG, h5, 1 goal) and Joa0 Novaes (BRE, h5, 2 goals)
Progression Clinique la Prairie : 2-1/ 5-2 / 6-6 and 9/6
 
Clinique la Prairie : Piero Dillier (SUI,  h0), Bautista Beguerie (ARG, h4, 3 goals), Juan Manuel Gonzales (ARG, h4, 3 goals) and Lucas Labat (ARG, h6, 3 goals)
 
Gstaad Palace : Gerardo Cosentino (LIE, h0), Ismael Iraizoz (ARG, h3, 4 goal), Santiago Schweizer (ARG, h5, 1 goals) and Franco Gai (ARG, h6, 1 goal)